You've landed here because your career doesn't feel quite right
✖️ you feel STUCK at your current level
✖️ you're UNSURE of your next career step
✖️ you're feeling UNDERPAID and UNDERVALUED
✖️ you might be BURNT OUT and EXHAUSTED by work
✖️ you're not getting the job search RESULTS you want
✖️ you're feeling FRUSTRATED by your situation
✖️ you know you were MEANT FOR MORE
IMAGINE IF YOU COULD...
✨ find CAREER CLARITY and create a focused job search plan so you can figure out the right next career step
✨ get a HIGHER-LEVEL SALARY with a $10,000 - $50,000+ salary increase to gain financial freedom
✨ shift your MINDSET to have more confidence, overcome impostor syndrome, and not talk yourself out of roles
✨ have the WORK LIFE BALANCE you desire whether that's working remote or for a company with a 4-day work week
✨ crush your INTERVIEWS with a tailored strategy to feel confident communicating your value and getting offers
✨ learn how to NETWORK EFFECTIVELY and connect with the right people to get your application seen
✨ Have a CLEAR ACTION PLAN to make your next career move instead of wasting time, energy, and money trying to figure it out on your own
now don't roll your eyes YET, because I know you're thinking
🧠 job searching is ALWAYS going to be hard
🧠 you're not QUALIFIED for the roles you want
🧠 you should continue STRUGGLING on your own
🧠 you should just BE GRATEFUL with what you have
🧠 it's too COMPETITIVE in the job market
🧠 you don't have the TIME and ENERGY to job search


But it doesn't have feel that way.
A 6-month career and mindset makeover to guide you into your happiest career move yet with financial freedom, a job you love, and a life you can't wait to wake up to
HERE'S HOW IT WORKS
Over 6 months we'll cover everything you need to know in order to find a better job, shift your mindset, and up level your lifestyle.
Fill out a short application and within 48 business hours, you'll find out if you're accepted into the program. If you're accepted, we'll send you information via LinkedIn DM or email on program structure, payment options, and answer any question you might have.

If the program sounds right for you, we'll send you a payment link and get started!
WHAT YOU GET
---
WHEN YOU JOIN THE CAREER CLARITY BOOSTER YOU'LL RECEIVE:
6 months of high-touch group coaching support designed to teach you how to get into a new high-level role with a baller salary, work-life balance, and future career growth


Weekly group coaching calls for on-demand breakthrough workshops, high-touch personalized feedback, and in depth mindset coaching


Daily Slack access to Chelsea and her team of expert coaches for any questions, guidance, support, coaching and to celebrate your wins!


LIFETIME ACCESS to The Career Clarity Booster course filled with 6 modules containing dozens of trainings, multiple resume and cover letter templates, easy-to-implement networking tools, and much more to make your career transition


A completely new personal brand with an updated resume , cover letter, LinkedIn revamp and more!


Access to industry leaders and experts through monthly live guest expert trainings and workshops on topics from impostor syndrome investing and more


A community of ambitious women who know exactly what you're going through and are there to support you through every step of your journey.
WE'LL WORK TOGETHER TO GET YOU
A NEW POSITION AND COMPANY YOU LOVE
Can you imagine going to work and actually feeling happy? That's what we'll aim to get you. We will work to find and land not just ANY new position. But the RIGHT position for you.
A BALLER HIGH 5 OR 6 FIGURE SALARY
You deserve a high salary that can help you to live the life you want. By targeting specific roles, we'll aim to get you an irresistible compensation package that fulfills all of your wildest dreams.
A NEW MINDSET ON YOUR CAREER
Imposter syndrome, who? Together we will work to identify and overcome any of your mindset blocks while also giving you actionable tools to use long after the program has ended. Nervous system regulation is also a big part of our mindset coaching.
A CLEAR CAREER ACTION PLAN
Your new position is an exciting next step. But what's after that? We want to set you up for long-term success whether that's a promotion, raise, or another external career transition. We'll work to help you create a long-term action plan.
CLIENTS WE'VE HELPED
In CCB, we support clients in their personal career transition. Whether it's transitioning out of a career path or moving up in the one you're in - we work with every client personally to achieve their career goals.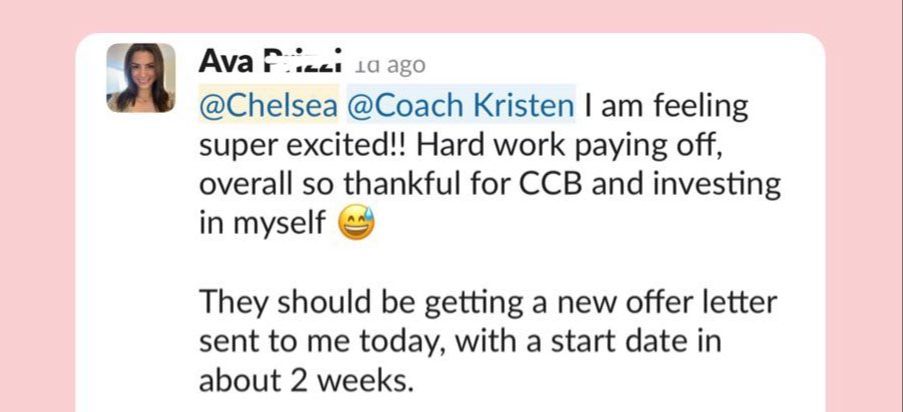 AVA TRANSITIONED OUT OF TEACHING
Ava was working in education and wanted to transition out into something with better work life balance and long-term career growth. We worked with her to decide her new career path (Learning and Development), optimize her personal brand to market her previous teaching experience, and helped her feel confident going into a new type of interview. She now is working as an Organizational Transformation Specialist Senior Consultant at Booz Allen Hamilton.
MEGAN UPLEVELED IN PROJECT MANAGEMENT
Megan had fallen into most of the roles she had been in as opposed to seeking out roles for herself. She didn't feel confident talking about her abilities and wanted to show the impact should could have on an organization. She ended up doubling her salary as an Operations Specialist.
BEX GOT A 45K SALARY INCREASE
Bex wanted to stay in her same field of work but was craving more growth and a higher salary. She kept getting to final rounds of interviews, but wasn't able to get any offers. By the end of her time in CCB, she had an offer that was 45K higher as a Corporate Social Responsibility Manager at Believe.
A FEW PLACES CCB CLIENTS LANDED
WHAT PAST CLIENTS HAVE SAID ABOUT CCB
MARIAH
"The benefit of having Chelsea as a coach is that I have more than doubled my salary and joined the 6-figure club all while job searching less than 4 hours a week! That was my goal and I reached it. The benefit is yes, the money, but also the extra time to focus on my health, the extra income to become a homeowner, and the confidence to continue to grow in my career. Prior to CCB I was not confident, not focused, and not dreaming big enough. I was drained by my job search and not using the hidden job market. I am glad I met Chelsea and that she coached me through mindset shifts. I gained confidence and learned how to network in a way that is strategic and results driven. I remember bashfully sharing my dream career / lifestyle goals with Chelsea. She never said it wasn't possible, she so effortlessly helped me manifest those goals which I am now living out. I appreciate how Chelsea also cares about her clients as whole people. She cared about my career goals but she also helped me envision other lifestyle goals and passion areas I could pursue while also having my career. I can't believe how CCB has shifted my whole life."
ERIN
"I spent over a year applying for job after job with no response. Seriously, NO response; not an email, a call, and interview, nothing! I was at my wit's end. Then the good Lord has Chelsea Stokes come across my TikTok For You Page and the heavens opened and the angels sang. Ok, maybe not exactly that but something drew me to Chelsea and led me to contact her. Within a day we were on Zoom, learning about each other. Of course I cried because this whole process has been very emotional for me. Chelsea was so kind and understanding and comforting. I signed up for CCB that very day and its the best decision I've ever made. I never could have known just how valuable that decision would be. CCB has connected me with so many amazing women and so much knowledge. Because of this program I'm in a much better place. I know my worth and I refuse to settle for anything less. I'm far better equipped to handle the ups and downs than before and knowing you're not alone in this crazy landscape is everything. There really aren't enough words to accurately describe how grateful I am to Chelsea, her team, and all the amazing women I've met through CCB. I genuinely can't wait to see where my life goes now!"
BRITTANI
"CCB has been the BEST thing I could have ever done for myself during a very dark and challenging time for me and I could not be more grateful for the experience and support that came from it!! If it wasn't for this beautiful community of CCBers, I'm not sure I'd be where I am today with such a big happy smile on my face!! It is not easy work, but that's where the growth comes from; finding comfort in getting uncomfortable! Knowing you have a team of amazing experts to guide you through it all has been so rewarding. I will miss this program dearly, but am proud of myself and excited for my future ahead!! THANK YOU SO MUCH, TRULY!!
Your questions, answered!
How much access do I get to Chelsea?
What if I get a role before the 6 months is done?
What if I can't attend calls?
STILL NOT SURE IF CCB IS RIGHT FOR YOU?
IT WAS MADE FOR YOU IF...
✨ You know you were made for more in your career but you just don't know how to get there
✨ You want to find the right position for you and don't want to settle for a position you could be in unhappy in
✨ You want to make an impact in your career and know you can but need a company that sees your value
✨ You're seeking a company that will serve you in providing support for your career and life
✨ You want to make more money even if it feels intimidating but will help you create your dream life
✨ You feel a little scared but mostly excited (!!!) about changing your life and landing your dream career
HEAR CAROLINE'S SUCCESS STORY
HEAR CARLY'S SUCCESS STORY
HEAR VICTORIA'S SUCCESS STORY
MEET YOUR MENTOR
Hey there! I'm Chelsea.
I know how to get you unstuck because I've been EXACTLY where you are. As a corporate recruiter working a big fancy city job, getting completely burnt out and somehow landing on my feet, I decided that I wanted to help women get out of careers that no longer served them.
I have helped dozens of women land their dream careers and helped them to set-up for long-term career success. Every day I see women who have so much potential if only they had the tools to get out of their own way.
In addition to my years in recruiting and my own personal experience, I've invested thousands of dollars into my own personal development as a coach to show up and serve my clients at the highest possible level.
When you sign up for the Career Clarity Booster, you are making a decision that will change your life for the better. Let's get started.
APPLY TO CCB