If you've been waiting for the perfect time to invest in your career, that time is now.
November through January is one of the best times of year to get hired into a new role. Why? I'm so glad you asked!
1️⃣ Companies are trying to use budgets before it expires at the end of the year and make hires with their money before it's gone!
 2️⃣ Competition is at it's lowest as most people get distracted by the holidays. Who wouldn't want less competition for better jobs?!
3️⃣ In January, companies have the biggest budget when their fiscal year turns over and will hire the most. But recruiting for that starts now!
Year after year I see my clients get into epic roles around and after the holidays. Competition is at its lowest, but hiring is getting to its highest. But the fact is that if you don't start now, you're going to miss out.
The truth is, you will never see deals and discounts like these again from me. So, whether you're looking to uplevel your career or protect your job, there's never been a better time to invest in YOU and your future.
CLAIM $700 OFF
The Career Clarity Booster is my 6-month transformational high-touch group program for people who want career fulfillment and financial freedom. With daily access to me and my team through a private Slack community, weekly group coaching calls, lifetime access to the CCB curriculum, a bonus dedicated Success Coach, and a network of ambitious job seekers - your career goals have never been more achievable.

Looking for more information on CCB? Click here!

When you apply for CCB before November 27, 2023 you'll claim my biggest deal of the year - $700 off your enrollment to CCB!
10

 9 spots available!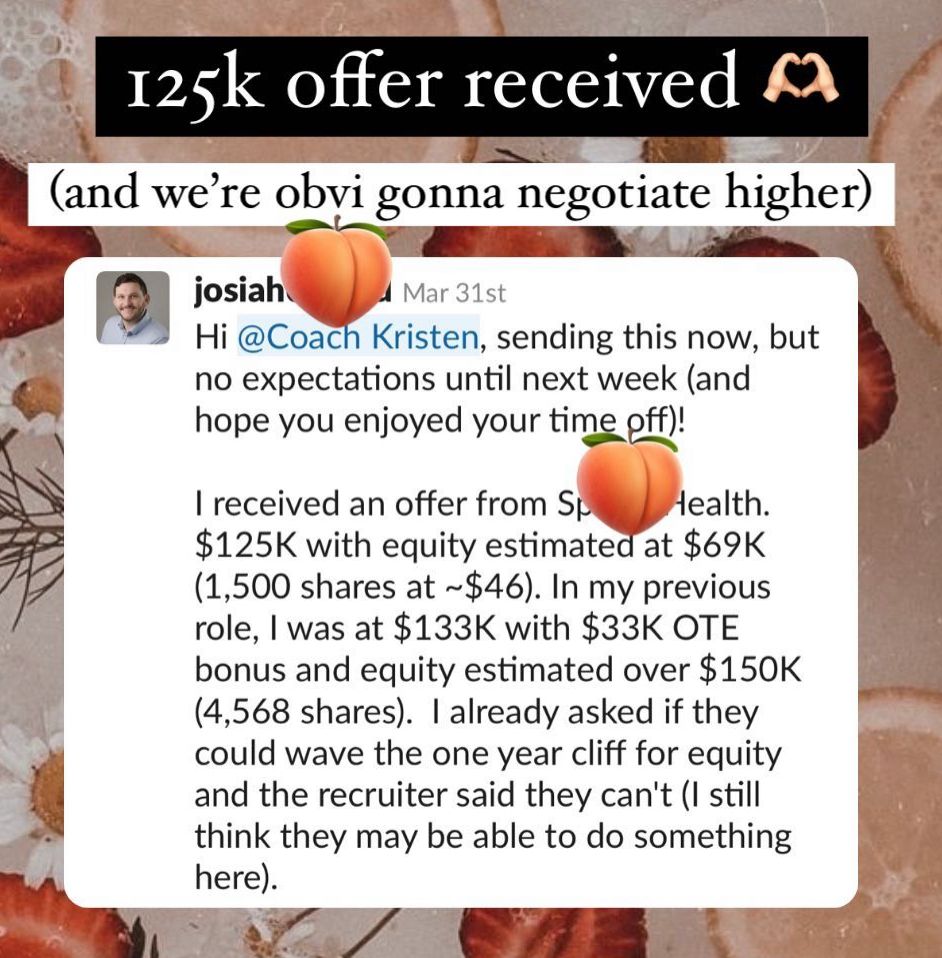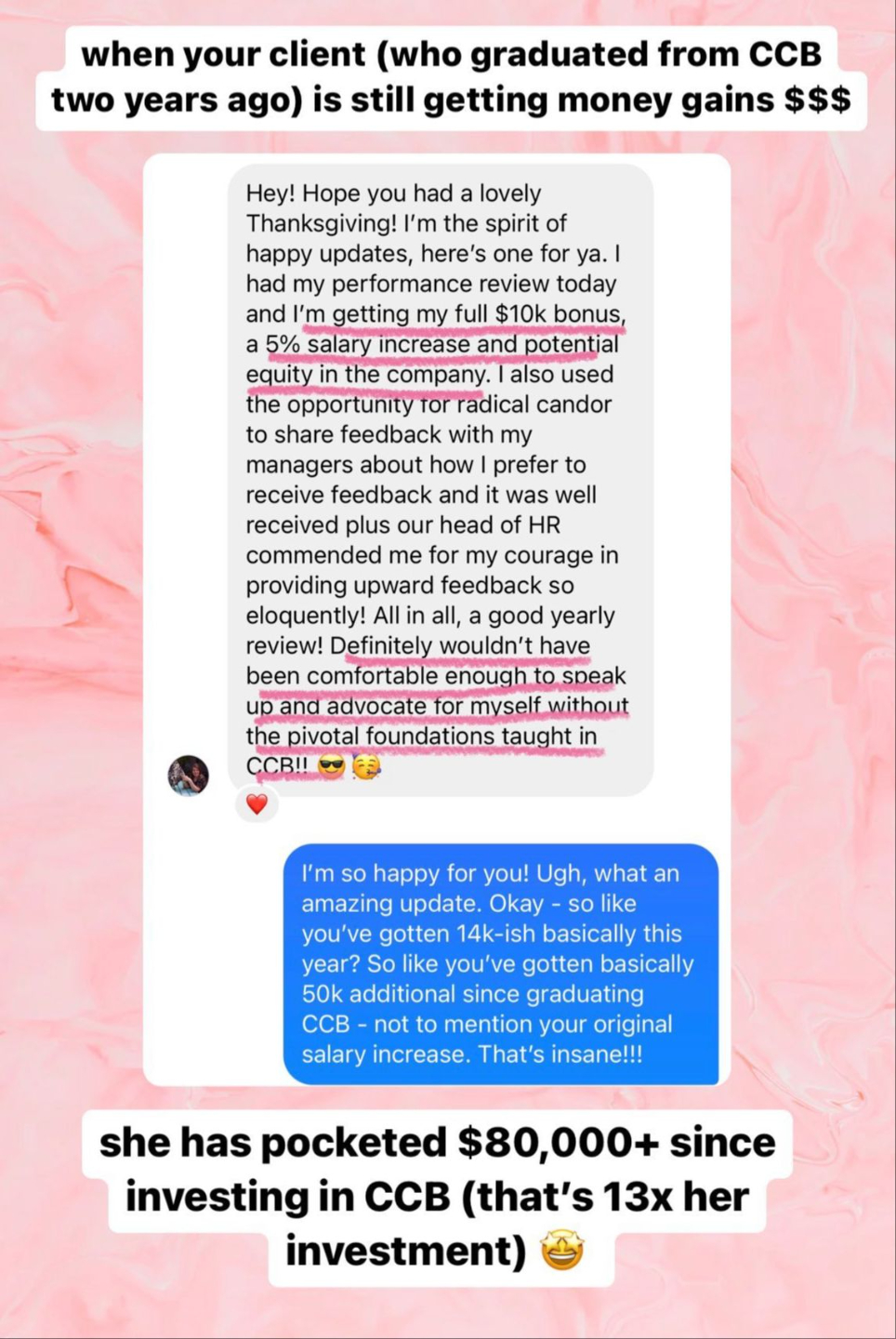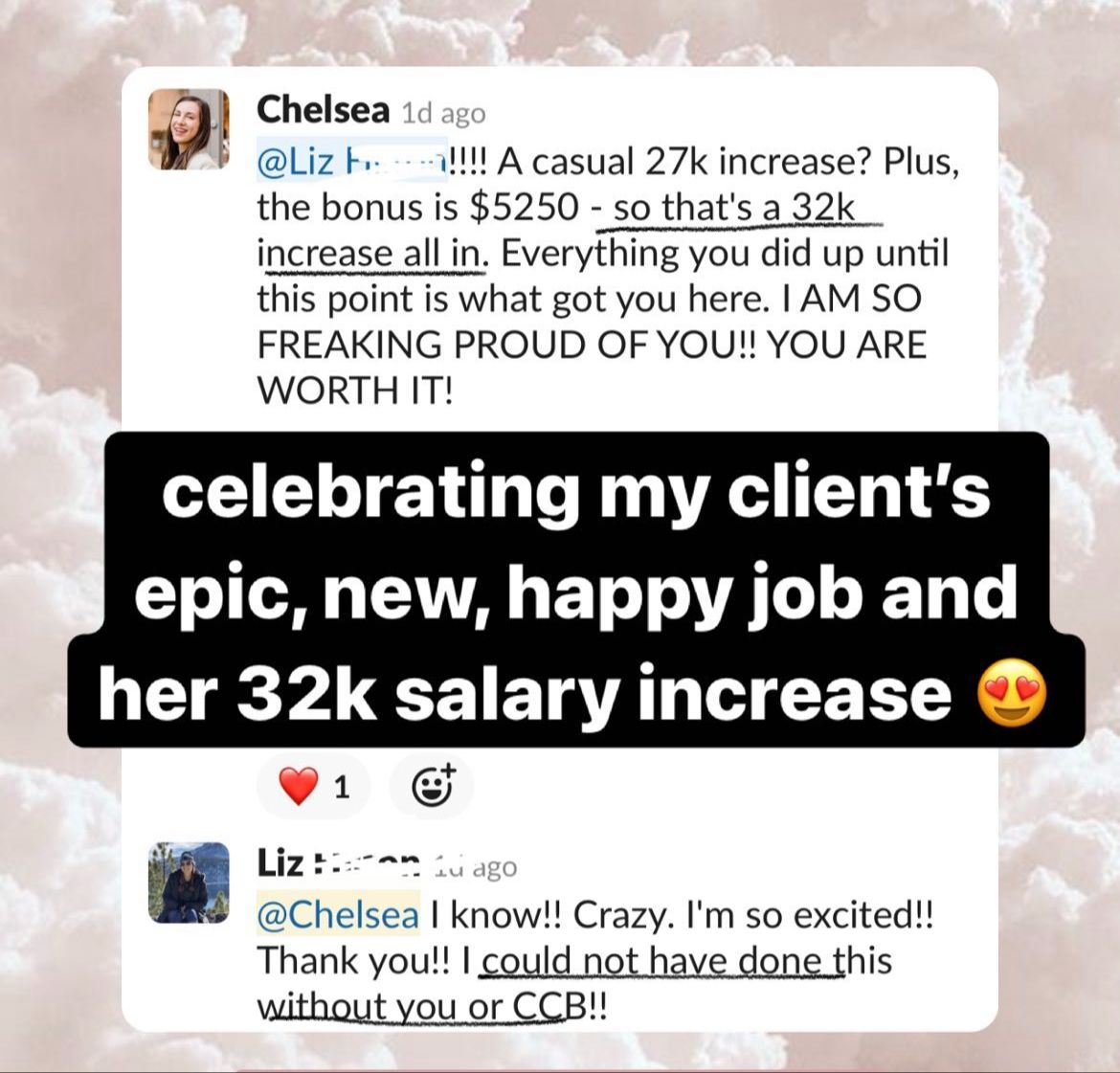 THIS DEAL GONE FOREVER IN...
50% OFF
Define Your Career is the ultimate career clarity course to get unstuck, define your next step, and fall in love with your career path.

Do you want to feel excited  and energized about your next step? Have confidence and pride when someone asks where your career is going?

Define Your Career will give you the exact roadmap to figuring out your next career step so you can stop feeling stuck, start taking action, and feel happy in your career for the short and long-term.
I have to be honest with you...
Black Friday is the only time of year where I offer crazy bonuses and discounts like these.
Why? When my clients are consistently 5 - 7x their investment in my programs, I know the value is there.
BUT I also know that my big goal is to see more women in happier, higher-paying jobs. I want you to WIN so I'm offering you these discounts to give you what you need to make an epic career uplevel.

I've already helped dozens and dozens of women get $30,000 - $40,000 salary increases and offers at companies like Microsoft, Google, Hubspot, and The Guardian, so I know that these programs work. And they can work for you.

You'll never see these price points again, so it's time for you to take the leap. You ready?
Frequently Asked Questions
HOW LONG ARE THESE DEALS AVAILABLE?
Only until November 27, 2023 -  then they're gone forever! There won't be another opportunity to get a discount like these again.
---
WHERE CAN I LEARN MORE ABOUT THE OFFERS AVAILABLE?
If you click button below each offer description, you'll be taken to the sales page or application for that specific offer. To make it easy, here are the sales pages for each offer:
👉 DEFINE YOUR CAREER
---
STILL HAVE QUESTIONS?
All good! Send me a DM on Instagram with the words BLACK FRIDAY to go to the top of my inbox. From there, we can talk about if either of these programs are the best fit for you and your career goals.
DO YOU OFFER REFUNDS?

Due to the nature of both these programs and to honor my client's commitments, we do not offer refunds. However, we already have dozens and dozens of happy success stories and past clients who sing our program's praises. We also have guarantees for all our programs.
---
HOW MUCH IS CCB?
We offer 5+ payment plans for CCB with paid in full, 6-month, and 9-month options. We also accept various credit options that can start as low as $290/month. Because CCB is an intimate coaching container, we want to ensure it's the right fit for you. The best step to explore this is to apply and learn more here. 
---
WHAT'S THE DIFFERENCE BETWEEN CCB AND DEFINE YOUR CAREER?
The Career Clarity Booster is a high-level coaching program where me and my team guide you through every part of the job search process to land a high-level career move. By the end of this program, the goal is to have you in a new, happy, abundant job.

Define Your Career is a self-led course that is only focused on getting you career clarity, also known as a job search plan. This course is a self-led version of one of the six modules in the Career Clarity Booster.  By the end of this program, the goal is to have a clear career direction.
Meet your mentor
Hey friend! I'm Chelsea - a former burnt out recruiter turned career coach who has helped dozens of women find and create their dream careers and lives.

I once felt so lost in my career - I had no idea where to go. I stayed stuck for 3 years before burnout caused me to quit my job and scramble to figure it all out on my own. Spolier alert - that sucked.

Now I help women avoid what I faced - to gain career clarity and take clear action to upgrade their careers. My clients are incredible powerhouses who accomplished things like...
✨ Earning a 173% salary increase (from $80,000 to $235,000)
✨ Going from lawyer to a recruiter at The Guardian
✨Going from zero job search results to a job at Microsoft
✨ Earning a $80,000 salary increase in higher education

It all started with them taking the leap to invest in their careers. There's literally never been a better time to finally get the answer to, "what do I do next?"
SO, HOW WILL YOU UPLEVEL YOUR CAREER?